At Long Last
Greetings, Better Lifers!  I hope you are well and that you've had wonderful Springs and Summers.  Many of you have children returning to school soon (today even!), and I hope they are excited about the new beginning.  I know I am.
As summer draws to a close, so does a busy period for me.  I am very much looking forward to "slow season" and catching up with myself, which includes catching up with you all and this blog.
One of the "rules" of blogging is not to apologize for absences.  However,… Continue reading →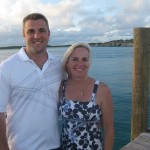 Last month, my brother, Darin, came for a visit and stayed with us for two weeks.  What a lovely time!
Darin had not been to the island for several years – far too long.  Like many of us, he let Life get in the way, and – before he knew it – years had slipped by.  But, oh how sweet to be reminded how much he loves his island home!  Because he, too, grew up knowing and loving this special place.
Of course, the first thing that struck him as he flew above the Exuma… Continue reading →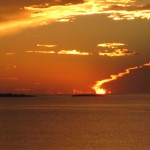 Where Have I Been?
In the last four months, I have published a paltry four blog posts.  Sigh.
Since the flurry of Regatta season, I have been dashing from one thing to the next, with a great deal of travel as well.  I touched on some of this in an earlier blog post, and I am delighted to report that all health issues are seemingly resolved, and my family and I are in great health and spirits.
Where Am I Now?
I am also delighted to report that I am happily home on the island and enjoying… Continue reading →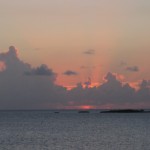 I'm home!
This summer has been a particularly hectic one.  With what?  The usual "island busy" with homemaking, freelance writing, organizing summer kids' program, social events, etc.  Plus, more travel than usual – some for family/health, some for fun.  And all of it contributing to the 7 pounds I packed on from my inability to resist the "bad" stuff on Stateside menus!  Sigh.  Not to mention my extreme absence from this beloved blog.
But I'm home now.  And oh so happy.
Yesterday was my first full day back after two weeks gone. … Continue reading →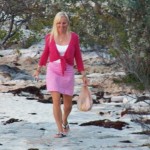 I'm a real blonde. (I declare this proudly, as though it actually matters.)
And yet, we can all use a little help…
Background of a Blonde
Born blonde, I grew up in a southern state where we frequently went boating on the weekends and to the ocean for local vacations. It was also an era when kids played outdoors for hours on end. My blonde hair soaked up the sun (and the freckles began their lifelong spread.)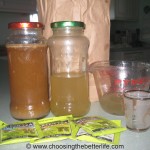 Hello, Better Lifers!  It has been a series of beautiful days in the Bahamas.  For example, yesterday looked like this all day  . . .
Today is overcast and squally, but it is still beautiful to me!  I'm also enthusiastic about the day because I am feeling much better.  Thank you for all of your well wishes.  After my last post, I really forced myself to slow down and take it easy.
Sarah, my good friend and neighbor, heard I was back down with a little… Continue reading →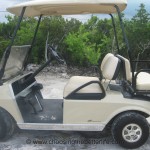 G'day, Better Lifers!  I'm having a delightful Thursday and thought I'd share some of it with you.  This isn't a comprehensive view of the day, but is a glimpse into some of the little snippets that are blending together to bring me joy today.
First of all, this post is a labor of love because my rapid typing skills are on a major slow-down today.  I cut my index finger, and it remains sore on the typing tip.  BUT, what led to the cut is most excellent – I was cleaning Beau's new golf cart!… Continue reading →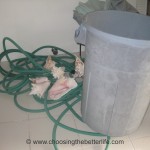 Well, he's gone. Tropical Storm Isaac is long gone from our stretch of islands. (Continued prayers and best wishes for those who remain in his battering path!) Thankfully, it was a fairly uneventful storm for us, as these things go.
Many of you have never lived through a tropical storm or hurricane. Of course, there are plenty of blizzards, floods and other natural disasters to keep us all on our toes in every corner of the world! But, even in my Better Life, hurricanes are the most dangerous for us here.
In fact, I had just completed my move down… Continue reading →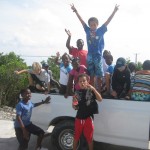 I love our island children.
I don't have children of my own (and my beau's children are grown). So I get my "kid fix" from spending time with the local island kids. Due to the small size of the community and the relaxed, interactive, island lifestyle, it is my pleasure to see these children almost every day – far more often than I was able to see cousins or friend's children in the hectic, far-flung States.
One of the benefits of… Continue reading →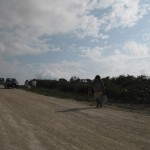 A few months ago, my beau and I spent some time on Long Island, Bahamas. One of the highlights of the trip turned out to be my first experience hunting land crabs! Or hunting any crabs, for that matter.
This was an unexpected treat. It just so happened that, while we there, conditions were right and THOUSANDS of land crabs emerged. It had been raining a lot, but that afternoon, the sun came out and so did the crabs. And I mean, literally, THOUSANDS. We were driving down the road and just began to see crabs coming out… Continue reading →