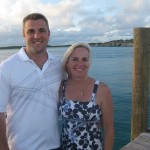 Last month, my brother, Darin, came for a visit and stayed with us for two weeks.  What a lovely time!
Darin had not been to the island for several years – far too long.  Like many of us, he let Life get in the way, and – before he knew it – years had slipped by.  But, oh how sweet to be reminded how much he loves his island home!  Because he, too, grew up knowing and loving this special place.
Of course, the first thing that struck him as he flew above the Exuma… Continue reading →
I am 41 years old, and I have never been seasick. Ever.
Until Saturday . . .
A Beautiful Morning
Saturday dawned into a beautiful morning. Beau and I had several projects to take care of – a typical Saturday morning – but we both commented on what a pretty day it was. A good day for fishing. Perhaps later in the day after we finished a few things.
As Beau started to walk out the door to tackle his first project, he hesitated, "Maybe we should go fishing first."
Indeed, fishing is best early in the morning. So, off… Continue reading →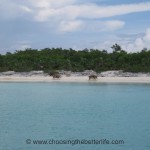 " . . . when pigs fly!" How 'bout when pigs swim?!
Yes, it's true. Pigs swim. At least, island pigs swim!
I've posted about this before as part of an evening boat excursion, but it's just too fun a topic not to revisit. Besides, the pigs really warrant their own post!
So, the scoop . . .
On a nearby (uninhabited) island, a handful of large, wild pigs are the dominant residents. Some twenty years ago, a couple of the local guys brought in two pigs and placed them on that island to breed and… Continue reading →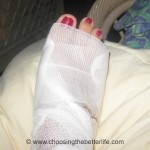 Last week, I blogged about Angel's medical emergency, but I'm overdue to fill you in on mine . . .
As regular readers may recall, the end of July was a fun, but particularly hectic, time for me. During a brief lull one Sunday, Beau went out diving (free-diving and spear-fishing) for the day, and I decided to treat myself, too.
French Toast
I slept in a little – anything past 6:30am is a luxury! When I woke up, I was craving French Toast, but I didn't have any bread in the house. I used that… Continue reading →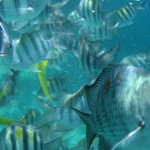 Over the weekend, Beau and I took advantage of the beautiful summer day and headed out for a day of play on the water. We enjoyed a long boat ride up the chain of islands, exploring along the way and cooling off in the sea.
(For a bird's eye view of the chain of islands, and the spectacular shades of blue and aqua that we were cruising through in our boat, check out this older post with lots of aerial photos.)
During our exploration, one spot was rife with sea turtles, sharks and other sea creatures, so we got… Continue reading →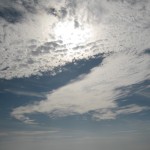 A few weekends ago, I enjoyed A Perfect Day.
It was a weekend morning and absolutely beautiful.
Leaving with friends, we piled into a boat and headed out to sea just before 9:00 a.m. for some fishing.  Into the deep water on the east side of the island, we baited the rods with ballyhoo.
The boys fished off the stern, and the girls lounged in the sun on the bow.  After we had trolled along for a while with no luck, we pulled in the lines to check them.  Sure enough, somebody… Continue reading →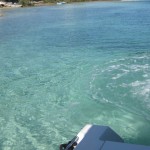 Ahhh, the Better Life! It's all a state of mind. I mean, here I am, in the most beautiful, pristine, idyllic setting one could wish for, and I STILL get caught up in a frantic flurry of the almighty Things To Do. On a typical day this week, for example, I started my day at 6:30 a.m. per usual. It quickly turned into a day of blog posting, social media responses, catching up on overnight email, starting laundry, walking the dog, hanging laundry to dry, mopping the floor, cleaning the bathroom, paying bills online, making lunch, visiting with my beau… Continue reading →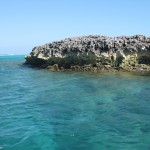 Recently, I wrote about an evening boat excursion, which included hunting large sea snails. I promised a fuller description of what that entails, so here you go!
By way of background, I was never a huge fan of escargot (snails) when I would occasionally encounter them at a fancy restaurant in my former life in the States. (However, if you saturate anything in butter and garlic, I'm likely to find it tasty!) So, when an island local offered me bites of an even bigger Bahamian variety a while back, I was even less keen. However, in the spirit of… Continue reading →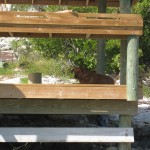 One evening last week, we took the boat out for a couple hours. With daylight savings, our evenings are longer now and conducive to such weekday adventures!
This particular boat excursion was in a 17 foot Boston Whaler, the boat in which I'm being taught to actually DRIVE (and dock and anchor and tie up, etc.) rather than to simply enjoy going along for the ride. But I begged off taking the wheel first since I wanted to snap some blog photos for you!
Off we went. We pulled away from the private dock and waved good-bye to Milo, one… Continue reading →
Good morning, Better Lifers! I have a special treat for you today . . . a video!
Some of the guys went out diving (e.g., free-diving and spear-fishing) on Sunday afternoon. They brought back boatloads – literally – of fish. I enjoyed hanging out at the fish-cleaning bench with all the action. I happily snapped away to take tons of pictures for you and will post those soon. Meanwhile, enjoy this video preview!
Here's a quick description of what you're about to see . . .
One of the guys skillfully cleans a large grouper. He holds the fish by… Continue reading →