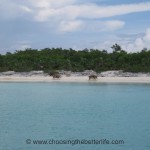 " . . . when pigs fly!" How 'bout when pigs swim?!
Yes, it's true. Pigs swim. At least, island pigs swim!
I've posted about this before as part of an evening boat excursion, but it's just too fun a topic not to revisit. Besides, the pigs really warrant their own post!
So, the scoop . . .
On a nearby (uninhabited) island, a handful of large, wild pigs are the dominant residents. Some twenty years ago, a couple of the local guys brought in two pigs and placed them on that island to breed and… Continue reading →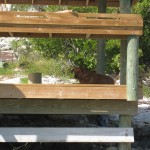 One evening last week, we took the boat out for a couple hours. With daylight savings, our evenings are longer now and conducive to such weekday adventures!
This particular boat excursion was in a 17 foot Boston Whaler, the boat in which I'm being taught to actually DRIVE (and dock and anchor and tie up, etc.) rather than to simply enjoy going along for the ride. But I begged off taking the wheel first since I wanted to snap some blog photos for you!
Off we went. We pulled away from the private dock and waved good-bye to Milo, one… Continue reading →