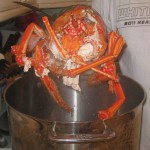 You're probably familiar with lobster tails as a primo meal, perhaps even lobster claws. But have you ever eaten the head of a lobster?  Lots of people believe there's no meat in the head of a lobster or it's not good to eat. I beg to differ . . .
What Kind of Lobster Are We Talking About Anyway?
Although I call them "lobster," the ones we eat around here are not the American/Maine lobster with the giant claws. These are more accurately called spiny lobster (a.k.a. Crawfish). Wikipedia and the Bahamas National Trust can educate you more.
This… Continue reading →
Well, y'all, I'm trying something new . . .
Various Bahamian dishes and this new
Foodie Friday
series!
Of course, this is not a food blog, and I'm not really a foodie. I'm certainly no chef! I like cooking just fine, but it's not one of my biggest passions or talents. That said, I LOVE to eat good food, and I'm no shrinking violet when it comes to going back for seconds and thirds! Since I'm cooking daily now, I figured it is time to spruce things up.
But the biggest reason for launching this series is that I'm finally… Continue reading →