Delicious Fish Dinner
Good morning! I was thinking of you all as I cooked dinner last evening, so I decided to snap some pics and share my delicious fish dinner with you. Now, I'm no chef, and this is not a food blog. BUT this fish makes me happy, so here you go. 🙂
The real dinner process starts in the sea, when my beau and his buddies spear-fish hogfish or grouper, or when we catch mahi mahi with a rod-n-reel. After they clean everything, I help package the fish fillets in gallon-sized Ziplock bags and seal them tight. The best seal is to simply dunk each bag in a bucket of clean seawater all the way up to the zipper; the saltwater helps suck the air out and create a real tight seal. (I know that's not the most scientific explanation, but all that matters is that it works!)
I happily take our portion home, label the bags with a Sharpie marker, and stock the freezer – except for the fish I usually cook fresh that evening! It is so wonderful (and I am grateful for how fortunate I am) to have fish readily available.
So yesterday afternoon, I went to the freezer and pulled out my very favorite kind of fish, hogfish. Just out of the sea it looks like:
Just out of my freezer yesterday, it looked like: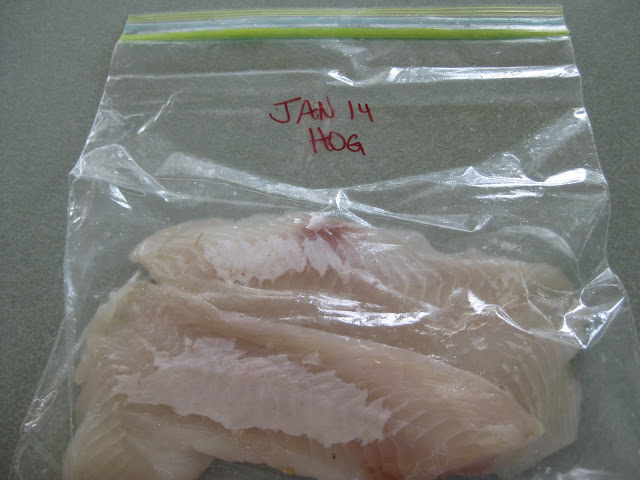 I rested the bag on a paper towel on the counter until the fish thawed. (I know, I know, that's not the safest practice, but I'm doing things island style.) Later, I put the thawed fillets into a glass pan. Metal pans work fine, too, but I like glass for microwave ease if we have any leftovers.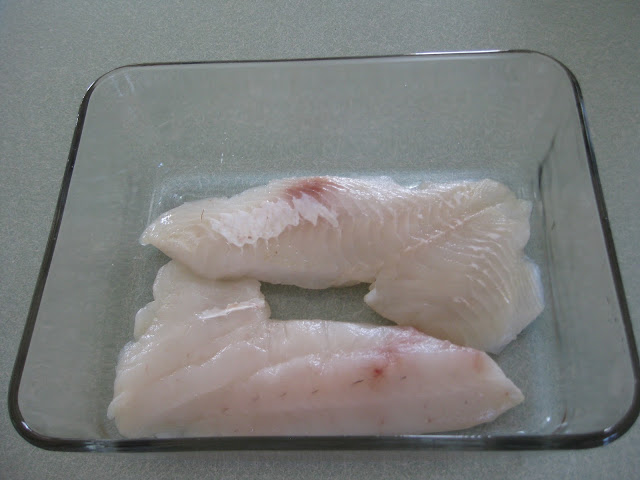 I gathered the rest of the ingredients for this simple dish: lime, seasoned salt, black pepper, garlic powder (optional), tomato, onion, butter.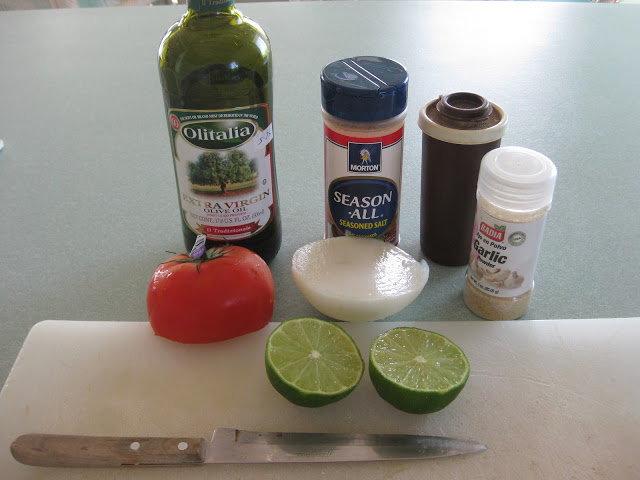 Yesterday, I was out of butter and didn't feel like running to the store just for that, so I substituted extra virgin olive oil. It works just fine, too, though I prefer the subtle taste difference with butter. None of it matters too much except for the lime. Real lime, people, not out of a bottle!
I seasoned the fish by squeezing one lime over the two fillets, drizzling a little olive oil (or a few pats of butter if I'd had it handy) and lightly covering them with a dusting of seasoned salt, black pepper and garlic powder. If you keep your limes in the refrigerator, you'll get more juice out of them by zapping them in the microwave for 7 seconds before you cut them open. (That's a little trick I learned a while back from the almighty Rachel Ray.)
Then I sliced an onion as thinly as possible and layered it over the fillet, repeating this with a thinly sliced tomato. You don't need to use the whole onion or the whole tomato – just cover the fillets. Also, even if you or the people you're feeding don't like tomatoes or onions, use them for the flavor and juice during cooking; you can skip eating them later.
I covered the pan tightly with foil and put it in the fridge until closer to cooking time.
Island girl note: I try to prep as much dinner as possible during the day to be ready for last-minute happy hour or social opportunities which frequently arise.
When it was time to think about dinner, I pulled the fish out to come to room temperature and pre-heated the oven to 375 degrees. (And sure enough, I ran out to meet some friends for a beer while my very slow oven heated.) Back home, I slid the covered pan of fish into the hot oven, then checked it at 20 minutes. To check: stick a fork into the center of the thickest portion of fish. The fork should go right in and not feel firm or resistant. The fish should easily flake off of the fork and be white, not translucent. If it's not ready, pop it back in the oven for a few minutes and check again.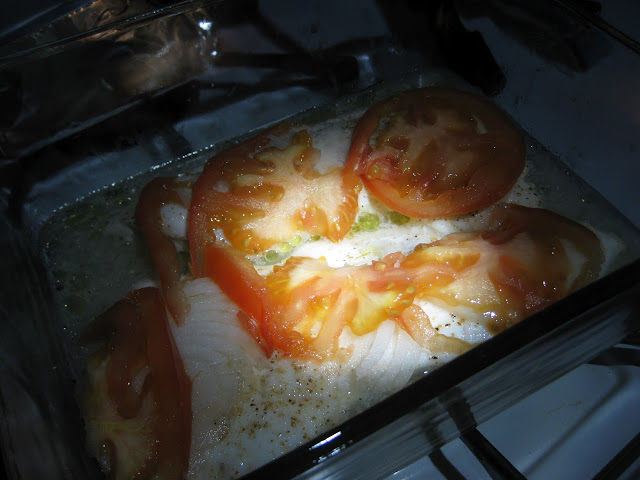 I didn't get a picture of it flaking off of the fork for you because it was all I could do to manage a large flashlight and a camera at the same time. Yup, the power went out, not at all uncommon in island living. Sigh. But, we're used to it and make the most of it! I'd already cooked most of the meal. Plus, my stove/oven is propane-fueled so it still functions even when the electricity goes off. I am well-versed at cooking in the dark!
Ahh, power came back on just as I was about to serve dinner. It was only off for about 20 minutes – not long at all! 🙂 So, I snapped a better picture for you: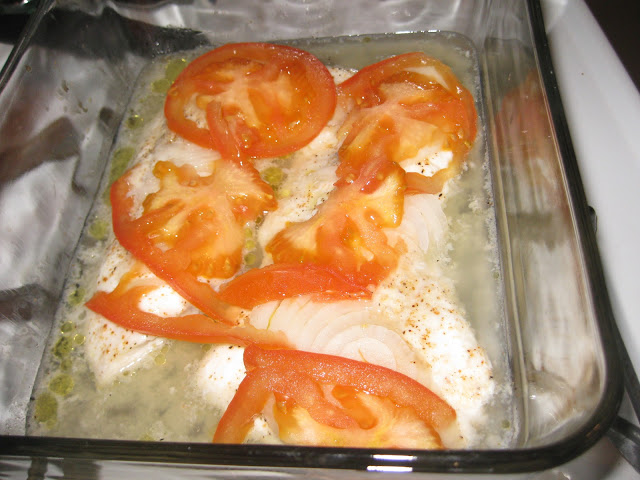 Meanwhile, I had cooked brown rice and sauteed fresh baby spinach with onion, broccoli, garlic and basil. To serve, I put the fish on the rice and covered it all with the "gravy," as Bahamians call it, or the broth which was created while the fish steamed. Mmmm, dinner is served!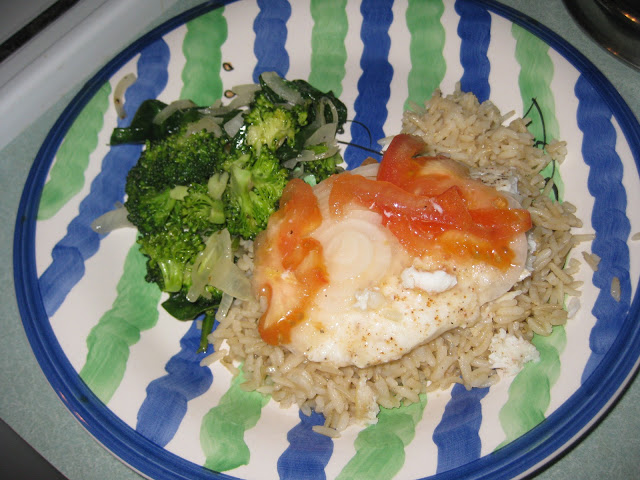 This makes a delicious and very healthful meal. It is also a great basis for a kajillion variations of seasonings, steaming vegetables in the pan with the fish, etc. With the endless options, I wrote this as a narrative, rather than recipe-card style, because it's more of a method than an actual recipe. (And because I learned from someone showing me, rather than my usual Epicurious-recipe-hunt.) You can use this method with fish you buy in your local grocery store and doctor it up however you like! In my opinion, the keys to success are simply to season the fish well with lime and to not overcook it. That's it!
And for the grill masters out there, a favorite variation – and how I originally learned this method – is to make the fish in foil packets instead of a pan and it will steam on a hot grill in 10 minutes. Delish!
2 Responses to Delicious Fish Dinner