The Wild, Wild West (Jackson Hole & Yellowstone)
As I've commented before, the Better Life can be enjoyed regardless of the setting. And this island girl travels! Most recently, Beau and I enjoyed a journey into the Wild, Wild West – an area of the United States that neither of us had previously explored.  In short, it was fantastic!
Jackson Hole, Wyoming
This area still feels like the frontier as it's a looooong way from the Bahamas, but it was entirely worth the trip!
After arriving by plane last week, stepping into the chilly mountain evening and eating a late dinner by the hotel, we fell soundly asleep in our log cabin at the lovely Rustic Inn Creekside Resort & Spa.
We awoke early the next morning – by habit and due to the two hour time difference – but lounged for a while before venturing outside to the hotel's hot breakfast buffet in the main building.  Overnight lows were in the – gulp – 30 degrees (F), so we waited until the sun burned off some of the cold!
Stepping out into the crisp day, I inhaled deeply, breathing the fresh mountain air and enjoying the spectacular vista.  Our "backyard" consisted of a bubbling creek, changing leaves on trees, hillsides, tepees and fire pits.  What a beautiful time of year in a beautiful setting!
Venturing into downtown Jackson later that day, we strolled around the Town Square, enjoying the local art, quaint shops, restaurants, bars, friendly locals and western ambiance.
Grand Tetons
Early the next morning, a guide from Grizzly Country Wildlife Adventures picked us (and a couple from Israel) up for a 12-hour guided tour of the Grand Tetons and the lower loop of Yellowstone.  The guided tour was worth every penny!  Instead of wrestling with maps and twisting mountain roads, we relaxed and enjoyed the views – many of which we wouldn't have found on our own – during our 250 mile jaunt.
First stop was a scenic look at the Tetons in the soft morning light.
Entering Grand Teton National Park, our next stop was the picturesque Oxbow Bend along the Snake River.
Yellowstone National Park
Leaving the Tetons, we entered our famous national park.
First of all, I never realized how HUGE Yellowstone National Park is – spanning almost 3,500 square miles!  Really glad to have our guide!  I also hadn't known that it is volcanic in nature – Yellowstone Caldera is the largest supervolcano on the continent.
One of our first stops in the Park was a visit to Old Faithful Geyser.  Perhaps the most predictable geyser, it erupts approximately every 90 minutes.  Our guide called a hotline to check the projected schedule for the morning!  We took our seats – at a presumably safe distance – around the bubbling, steaming area and patiently waited.
Sure enough, within 10 minutes of the predicted time, the geyser erupted, shooting thousands of gallons of boiling water approximately 140 feet up into the air.  Amazing.
We learned that Yellowstone boasts hundreds of geysers, hot springs, bubbling mud pits, waterfalls and petrified forests.  It was strange to see a pool of water (like the one below) that looked like a Caribbean blue hole, with clear turquoise water, only to realize that the steaming water is more than 200 degrees (F) – no swimming!
Another spectacular sight in the Park was the grand waterfall crashing into the river at the Grand Canyon of Yellowstone Park.
In addition to the spectacle of nature's beauty, the Park is rife with wildlife.  Our favorite – encountering a herd of bison along the road.
It was impressive to see these massive creatures in person.  I was also surprised to hear their snorting and other noises.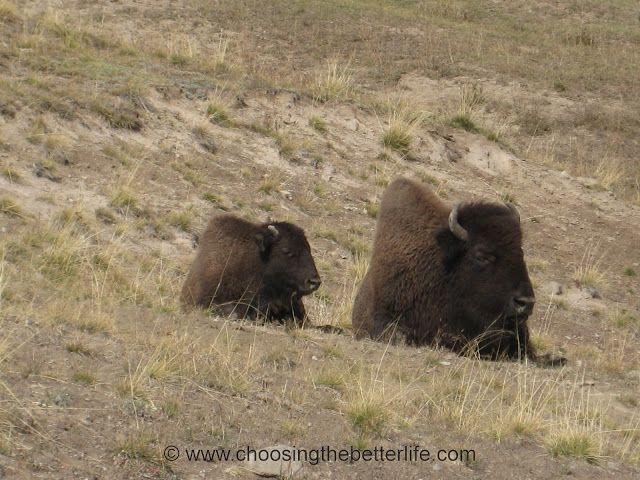 Less pretty, but equally astounding, were the surprisingly large droppings of, err, Bison scat.
Entering yet another scenic area, our guide sent us to explore (keeping an eye on us, of course) while he set up a gourmet picnic lunch alongside the river.
Returning from lunch to the main road, we waved to this immense bison ambling along the road.
Later, also just off the main road, we stopped to admire grazing elk.
Another breath-taking spot was the large Jackson Lake, nestled right against the mountains.
Although we did discard our jackets during the sunniest part of the afternoon, clouds rolled in late afternoon, the wind picked up, and we bundled up again!
Horses, Cowboys and Friends
The next morning greeted us with another sun-filled, blue sky kind of day.  Weather was wonderful all week.  We could handle the brief bits of cold (overnight lows in the upper 30s) for the pretty days (highs in the upper 60s and lower 70s).
After a leisurely lunch at a restaurant situated high on a butte with breath-taking views, we stopped at a local stable for some horseback riding!  In this day and age of liability and waiver forms, I didn't expect that we'd be able to work up much speed.  However, when our group included a dad with his babe-in-arms, we knew it was going to be a really slow amble!
Nonetheless, it was fun to be on horses, and the hour-long journey over the top of a mountain with the views below was exceptional.
Later that day, we cleaned up for a tasty dinner in town and to go hear some live music.  Like the night before, we enjoyed live bands with country music, entertaining dancing and friendly locals and visitors.
We especially enjoyed meeting a real live cowboy who regaled us with stories.  This cowboy has never left the country and thinks he might wither in an island sun, but he certainly enjoys his own Better Life and embraces a similar philosophy.  Becoming fast friends, we enjoyed his company on several evenings and left amid promises to keep in touch and visit again.
Our last day welcomed us into sunny arms yet again.  After a leisurely morning, we met dear friends for lunch at the National Museum of Wildlife Art.  Beau has known this lovely couple from their years of frequenting our island world, so it was a special treat to see them in their mountain world!
We enjoyed our first taste of bison burgers – tastier and leaner than ground beef – as we sat outside in the sun, enjoying the view across to the Elk Refuge and the company of good friends.
Would you believe that I had to leave the islands to suffer a little sunburn?!  I underestimated the proximity and strength of the sun in the high altitude.  After lunch, we viewed the various galleries of the museum, oohing and ahhing at the splendor.
Heading Home
All too soon, it was time to return home.  Being in altitudes of 6,000 (Jackson) to 8,000 (Yellowstone) feet, we occasionally had a headache (which Beau joked was due to beer!) and mild shortness of breath.  Time to get back to sea level!  Also time to get back to humidity – we went through about a gallon of body lotion in the dry mountain air.
We traveled back to Florida for an overnight before heading on to the island.  The overnight stay with my father brought its own vacation enjoyment as Dad and Beau continued their decades-long challenges of pool and dominoes.
Dominoes, especially, is a favorite Bahamian pastime, and Dad always enjoyed the fast-paced game coupled with fast-paced banter and trash talk.  Beau, on the other hand, enjoys teasing Dad for taking too long to play his turns.  "Study long, study wrong!"  Beau emerged the victor that night, duly noted by Dad on the ongoing score sheet that lives on his refrigerator.  But Dad insists that I tell you all he gave Beau a good run for his money!
What a great trip!  I thoroughly enjoyed my journey into the Wild, Wild West and understand how the Better Life can be enjoyed there.  The pretty weather (which has just turned colder, so we had perfect timing!), amazing views, majestic mountains, impressive wildlife and crisp mountain air fed my soul in a different-but-still-good way.
Now, back on the island, I am – as always – happy to be home and appreciative of my Better Life here.  Cheers to your Better Lives at home and in your travels!
4 Responses to The Wild, Wild West (Jackson Hole & Yellowstone)