Hunting Large Sea Snails
Recently, I wrote about an evening boat excursion, which included hunting large sea snails. I promised a fuller description of what that entails, so here you go!
By way of background, I was never a huge fan of escargot (snails) when I would occasionally encounter them at a fancy restaurant in my former life in the States. (However, if you saturate anything in butter and garlic, I'm likely to find it tasty!) So, when an island local offered me bites of an even bigger Bahamian variety a while back, I was even less keen. However, in the spirit of Choosing the Better Life, I wanted to be open and try new things. Plus, buttery garlic was offered up simultaneously as a dipping sauce! While it doesn't hit my love-ometer at the same high scale as lobster or hogfish, I did like it.
Since then, I've learned more about these critters. Bahamians pronounce the name so that it sounds like "Wilts" or "Vilts." You may know them as Wilks or Whilks or Whelks. Or, you may have never heard of these large Caribbean sea snails! I'll let Wikipedia provide the technical descriptions, but here is my layman's version…
We headed out in the boat toward little rock formations jutting out of the sea. The wilks can be found on our island, too, but not as many these days.
Tide was low so we knew that the wilks, which adhere to the rock near the water line, would be exposed.
We maneuvered as close to the rock as possible, leaned in (or got out of the boat on larger rocks), used a knife to pry the wilk's suction loose and dropped it into the bucket.
As soon as you pry it lose, the wilk squirts salt water out of the shell and quickly retreats back inside. If you look closely, the center with rings around it is the suction cup portion of the snail.
In ten short minutes, we'd gathered a great snack!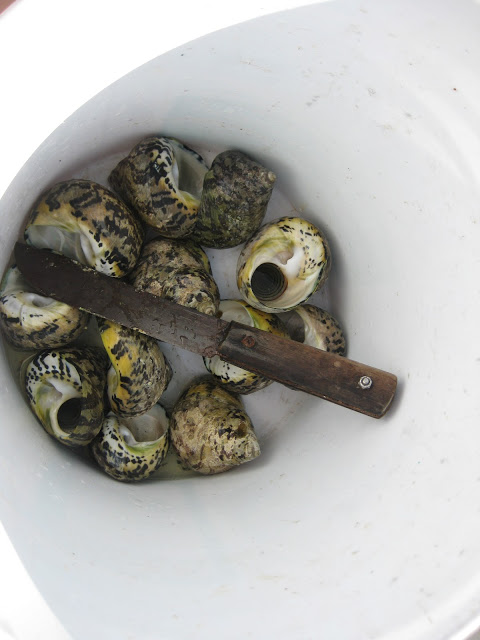 But we weren't done. We kept cruising through the sparkling blue water along the line of little cays in search of more wilks. When driving closely – and knowing what you're looking for – you can spot the wilks clinging to the rock before heading in closer with the knife.
The next round of hunting took longer than our initial score. We passed several cays that had already been cleaned out by others. Or, as my beau put it, "Dis is hog road. Ain't nuttin' dere." Translation from Bahamian dialect: "This is 'hog road' (meaning, well traveled). Ain't nothing there."
Still, in about an hour's time – and with us trading spots while he drove and I gathered some wilks – we had a nice bucket of "groceries."
As an aside, this excursion was also a great boat lesson for me. We were in choppy water and I had to slowly approach the rock, throw it into reverse at times, reach the targeted wilk without the current pushing me aside, watch the prop where it got shallow, keep the boat off the rock while he got the snails, sometimes even circle around on my own to retrieve my beau from the rock if he got out of the boat, and otherwise test my new skills. Challenging, but exhilarating and great practice!
As the sun dropped, we called it quits on the hunting and enjoyed the rest of the boat excursion. Eventually, we made it home. While I prepared a salad and sauteed the freshly caught Wahoo fillets from our friend for fish sandwiches, my beau prepared our appetizer – wilks!
We brought only a few home with us. (The rest, we put in an onion bag – strong netting with plenty of holes for water, but small enough that the wilks can't escape. We sunk the onion bag in water near home and tied it up so the wilks wouldn't crawl off. This kept them alive overnight until we could share them with other friends in the coming days.)
First, he put the wilks and some water in a pot to boil.
After 30 minutes or so, he deemed them ready. I confess I'm not entirely sure how he knew! After draining them, he took them one by one and popped the snail out by knocking the shell against the cutting board.
With a kitchen knife, he then took each snail and removed the suction cup and tail. With the remaining meat, he sliced it into bite sizes for us to dunk in melted butter with lime and garlic. We did all of this standing up – it didn't last long enough to make it into a bowl at the table.
Of course, throughout this entire preparation, Angel was never far from the action. The smells of the fish in the pan and the wilks on the counter tantalized her quivering nose. In case you had any question about it, fish is not just for cats. Angel and the other island dogs love all varieties of seafood!
So, the next time you hear about or see escargot, you can forget the fancy French stuff and remember our island-style wilks!
6 Responses to Hunting Large Sea Snails