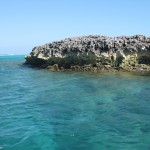 Recently, I wrote about an evening boat excursion, which included hunting large sea snails. I promised a fuller description of what that entails, so here you go!
By way of background, I was never a huge fan of escargot (snails) when I would occasionally encounter them at a fancy restaurant in my former life in the States. (However, if you saturate anything in butter and garlic, I'm likely to find it tasty!) So, when an island local offered me bites of an even bigger Bahamian variety a while back, I was even less keen. However, in the spirit of… Continue reading →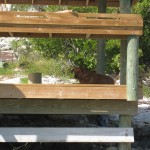 One evening last week, we took the boat out for a couple hours. With daylight savings, our evenings are longer now and conducive to such weekday adventures!
This particular boat excursion was in a 17 foot Boston Whaler, the boat in which I'm being taught to actually DRIVE (and dock and anchor and tie up, etc.) rather than to simply enjoy going along for the ride. But I begged off taking the wheel first since I wanted to snap some blog photos for you!
Off we went. We pulled away from the private dock and waved good-bye to Milo, one… Continue reading →