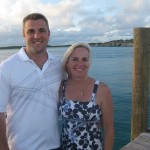 Last month, my brother, Darin, came for a visit and stayed with us for two weeks.  What a lovely time!
Darin had not been to the island for several years – far too long.  Like many of us, he let Life get in the way, and – before he knew it – years had slipped by.  But, oh how sweet to be reminded how much he loves his island home!  Because he, too, grew up knowing and loving this special place.
Of course, the first thing that struck him as he flew above the Exuma… Continue reading →
Welcome (almost) to your weekend, Better Lifers!
I will soon unplug and take off for a little island-hopping this weekend. Meanwhile, I leave you with a treat for your own weekend getaway, even if it's just in your imagination for the time being . . .
From Paris to the Bahamas
My blogging pal, Jacki, a.k.a. Momma Expat, is an American living in Paris who blogs at HJ Underway.  On occasional Fridays, Jacki runs a Weekend Getaway series that highlights different locales through pictures and a brief narrative.
I'm delighted to report that she asked me to… Continue reading →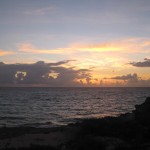 Good morning, Better Lifers!  What a glorious day.  I hope you take a moment from your busy Saturdays to simply breathe, look around you, and smile.
I've been rather contemplative lately.  I just feel so FULL of Life, in a quiet, contented way.  I think perhaps my senses are becoming more finely tuned to the little things in each day that bring me peace and happiness. Combined, they can outweigh the moments of the blechy stuff – the chaos and frustrations of everyday life.
Anyway, in this spirit of contented contemplation, I awoke this… Continue reading →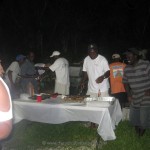 I know, I know, I haven't been posting as much as I used to. And I REALLY do want to get back to it. I've just been having too much fun!!
Most notably, I just came off of a week/end of delightful birthday festivities. But before we talk about that, I'll fill you in on the biggest birthday bash of the summer . . .
Beau turned 50! In the midst of a hectic time, we threw a weekend-long party last month. As you know, our tiny island is home to fewer than 100 full-timers, plus the many visitors… Continue reading →
My dearest Better Lifers, I have missed you!
Since launching this blog four months ago (is that all? It feels like we've been together longer than that!), this is the longest I've been away from you. It has been exceptionally busy lately – even for "island busy!" Some of the reasons why will warrant individual blog posts in the future, but, in a nutshell, here's what I've been up to:
Beau's dog, Milo, injured himself somehow and has been limping. To keep him from running and wrestling with the other island dogs, we've been keeping him contained in the house…
Continue reading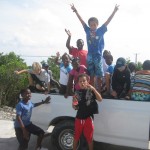 I love our island children.
I don't have children of my own (and my beau's children are grown). So I get my "kid fix" from spending time with the local island kids. Due to the small size of the community and the relaxed, interactive, island lifestyle, it is my pleasure to see these children almost every day – far more often than I was able to see cousins or friend's children in the hectic, far-flung States.
One of the benefits of… Continue reading →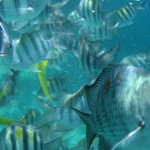 Over the weekend, Beau and I took advantage of the beautiful summer day and headed out for a day of play on the water. We enjoyed a long boat ride up the chain of islands, exploring along the way and cooling off in the sea.
(For a bird's eye view of the chain of islands, and the spectacular shades of blue and aqua that we were cruising through in our boat, check out this older post with lots of aerial photos.)
During our exploration, one spot was rife with sea turtles, sharks and other sea creatures, so we got… Continue reading →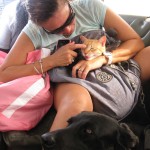 A few months ago, my beau and I took a trip with friends to Long Island, Bahamas.
Although my beau had been numerous times, and our friends were from there, this visit was a first for me.  Long Island is aptly named – the island is approximately 80 miles in length and only 4 miles at its widest point.  Long Island is south of the islands of the Exumas, where I live (and it's split by the Tropic of Cancer!), but it is only a short ride in a small plane.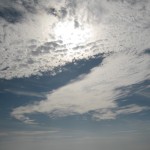 A few weekends ago, I enjoyed A Perfect Day.
It was a weekend morning and absolutely beautiful.
Leaving with friends, we piled into a boat and headed out to sea just before 9:00 a.m. for some fishing.  Into the deep water on the east side of the island, we baited the rods with ballyhoo.
The boys fished off the stern, and the girls lounged in the sun on the bow.  After we had trolled along for a while with no luck, we pulled in the lines to check them.  Sure enough, somebody… Continue reading →
Oh, my long lost Better Lifers! After my last post, I dashed to the States to take care of some matters that had sprung up (all is well). Like most Stateside visits, it was a whirlwind week with LOTS of driving and City traffic that I happily forget about most other days. Like other visits, it also had its upsides, most notably a too-short visit with my visiting Uncle and Aunt, recently-moved-to-the-area grandparents, mom and brother. And, of course, the gorgeous aerial views on the return flight home to the island. It was also a week of staying largely… Continue reading →