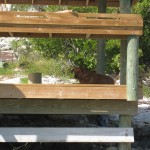 One evening last week, we took the boat out for a couple hours. With daylight savings, our evenings are longer now and conducive to such weekday adventures!
This particular boat excursion was in a 17 foot Boston Whaler, the boat in which I'm being taught to actually DRIVE (and dock and anchor and tie up, etc.) rather than to simply enjoy going along for the ride. But I begged off taking the wheel first since I wanted to snap some blog photos for you!
Off we went. We pulled away from the private dock and waved good-bye to Milo, one… Continue reading →
Good morning, Better Lifers! I have a special treat for you today . . . a video!
Some of the guys went out diving (e.g., free-diving and spear-fishing) on Sunday afternoon. They brought back boatloads – literally – of fish. I enjoyed hanging out at the fish-cleaning bench with all the action. I happily snapped away to take tons of pictures for you and will post those soon. Meanwhile, enjoy this video preview!
Here's a quick description of what you're about to see . . .
One of the guys skillfully cleans a large grouper. He holds the fish by… Continue reading →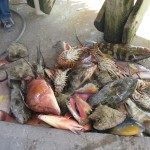 Good morning! I was thinking of you all as I cooked dinner last evening, so I decided to snap some pics and share my delicious fish dinner with you. Now, I'm no chef, and this is not a food blog. BUT this fish makes me happy, so here you go. 🙂
The real dinner process starts in the sea, when my beau and his buddies spear-fish hogfish or grouper, or when we catch mahi mahi with a rod-n-reel. After they clean everything, I help package the fish fillets in gallon-sized Ziplock bags and seal them tight. The best seal… Continue reading →