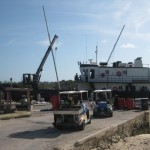 Greetings, Better Lifers! Regatta week is upon us now!
In our last post, we saw the Captain and crew readying the sailboat and launching her into the sea.  A few weeks after that occurred, it was time to set her skyscraping mast.
Helpful Mail Boat
As you may recall, the mail boat passes through our chain of islands every week or so, bringing everything AND the kitchen sink. To onload and offload particularly large or heavy items (e.g., trucks, small boats, heavy stacked pallets, etc.), the boat uses a large onboard crane.
One afternoon a few weeks ago,… Continue reading →