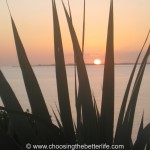 Welcome to your February and your weekend, Better Lifers.
Soon, the day will kick in fiercely. But, for the moment, I am quiet and contemplative.
I am enjoying . . .
Peace of simple things.
Contentment through gratitude.
Happiness in appreciating beauty.
Rejuvenation in the quiet.
Nature Says It Best . . .
Like last evening's sunset, as viewed from my back deck.
Sheer beauty. Sheer bliss.
Or this morning's sunrise.
As I gazed west over… Continue reading →