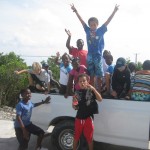 I love our island children.
I don't have children of my own (and my beau's children are grown). So I get my "kid fix" from spending time with the local island kids. Due to the small size of the community and the relaxed, interactive, island lifestyle, it is my pleasure to see these children almost every day – far more often than I was able to see cousins or friend's children in the hectic, far-flung States.
One of the benefits of… Continue reading →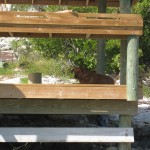 One evening last week, we took the boat out for a couple hours. With daylight savings, our evenings are longer now and conducive to such weekday adventures!
This particular boat excursion was in a 17 foot Boston Whaler, the boat in which I'm being taught to actually DRIVE (and dock and anchor and tie up, etc.) rather than to simply enjoy going along for the ride. But I begged off taking the wheel first since I wanted to snap some blog photos for you!
Off we went. We pulled away from the private dock and waved good-bye to Milo, one… Continue reading →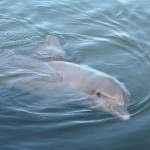 For as many years as I can remember as a child, I loved curling up with family and a bowl of popcorn and watching the once-a-year televised airing of The Wizard of Oz. (Somehow, that felt far more special than our ability now to download or watch a DVD any ol' time you please.) Anyway, one of the memorable lines in the movie was Dorothy's innocent exclamation, "Lions and tigers and bears – oh my!" As I delve deeper (no pun intended) into my new world, I am far more apt to blurt, "Shark!" or "Eel!" or "Barracuda!" Oh… Continue reading →