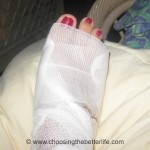 Last week, I blogged about Angel's medical emergency, but I'm overdue to fill you in on mine . . .
As regular readers may recall, the end of July was a fun, but particularly hectic, time for me. During a brief lull one Sunday, Beau went out diving (free-diving and spear-fishing) for the day, and I decided to treat myself, too.
French Toast
I slept in a little – anything past 6:30am is a luxury! When I woke up, I was craving French Toast, but I didn't have any bread in the house. I used that… Continue reading →
My dearest Better Lifers, I have missed you!
Since launching this blog four months ago (is that all? It feels like we've been together longer than that!), this is the longest I've been away from you. It has been exceptionally busy lately – even for "island busy!" Some of the reasons why will warrant individual blog posts in the future, but, in a nutshell, here's what I've been up to:
Beau's dog, Milo, injured himself somehow and has been limping. To keep him from running and wrestling with the other island dogs, we've been keeping him contained in the house…
Continue reading