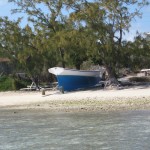 Regatta fever continues! While I ready myself for the trip, I thought you might enjoy some journal excerpts from our local sailboat from earlier this year . . .
Tuesday, January 3, 2012
Gently, I bob in the turquoise waters of my home in the out islands of the Bahamas. All 28 on-deck feet of my wooden hull bask in the new year's sun, while my seven foot draw drifts on a single keel below and my 60 foot mast stands regally above. The massive canvas sheet which serves as my mainsail is drying out on land nearby. Thanks to… Continue reading →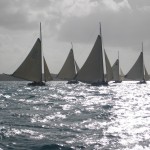 I HAVE REGATTA FEVER! And you're going to be hearing about it, so I should give you the background scoop now . . .
All over the world, of course, regattas – or sailboat races – take place. Even within the Bahamas, various regattas occur during the year. However, in this context, "Regatta" is shorthand for the one-and-only, like-no-other, national sailing championship of the Bahamas that occurs in George Town every April and is more formerly known as the National Family Island Regatta.
Like any sport with a high profile throughout the country, sailboat racing in the Bahamas brings with… Continue reading →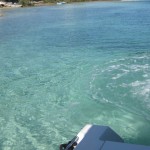 Ahhh, the Better Life! It's all a state of mind. I mean, here I am, in the most beautiful, pristine, idyllic setting one could wish for, and I STILL get caught up in a frantic flurry of the almighty Things To Do. On a typical day this week, for example, I started my day at 6:30 a.m. per usual. It quickly turned into a day of blog posting, social media responses, catching up on overnight email, starting laundry, walking the dog, hanging laundry to dry, mopping the floor, cleaning the bathroom, paying bills online, making lunch, visiting with my beau… Continue reading →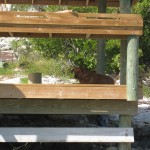 One evening last week, we took the boat out for a couple hours. With daylight savings, our evenings are longer now and conducive to such weekday adventures!
This particular boat excursion was in a 17 foot Boston Whaler, the boat in which I'm being taught to actually DRIVE (and dock and anchor and tie up, etc.) rather than to simply enjoy going along for the ride. But I begged off taking the wheel first since I wanted to snap some blog photos for you!
Off we went. We pulled away from the private dock and waved good-bye to Milo, one… Continue reading →