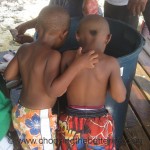 Today, October 12, is a special day.
Why? In addition to simply celebrating another day of Better Life, here are my top three reasons to celebrate today.
Reason # 1 – Discovery Day
On Monday, October 8, the United States (and other countries) observed "Columbus Day" as a holiday.  Similarly, today, the Bahamas (and other countries) recognize Discovery Day.
Discovery Day commemorates Christopher Columbus' arrival in the "New World."  His initial landfall is thought to be on one of the Bahamian islands, what he called Guanahani, on this day in 1492.
Present day, this… Continue reading →
Well, Better Lifers, here's another first. A delightful blog has published a profile about me and Choosing the Better Life! I am amazed, honored and extremely humbled.
You may recall that I recently wrote a book review for two lovely women, Lois and Victoria, discussing their newly published book, A Little Book About Something Much Bigger. We first "met" via Twitter (@LittleBookAbout). Part of why we connected online initially was our shared beliefs in living from a place of gratitude, following those inner nudgings, and otherwise living by Choosing the Better Life kinds of principles.
Lois… Continue reading →