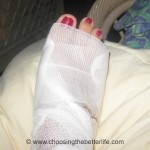 Last week, I blogged about Angel's medical emergency, but I'm overdue to fill you in on mine . . .
As regular readers may recall, the end of July was a fun, but particularly hectic, time for me. During a brief lull one Sunday, Beau went out diving (free-diving and spear-fishing) for the day, and I decided to treat myself, too.
French Toast
I slept in a little – anything past 6:30am is a luxury! When I woke up, I was craving French Toast, but I didn't have any bread in the house. I used that… Continue reading →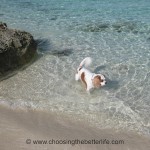 Oh Boy.  What a week.  Why did I disappear again, just after I'd told you I was excited to be writing again?  Well, I was busy keeping my dog alive . . .
After a whirlwind of travel last month, followed by a friendly visit from Tropical Storm Isaac, I was finally enjoying getting settled in to our island routine again.  This is a particularly quiet time of year on the island – turns out hurricane season is not a draw for the tourists – and I was enjoying the slow summer pace.  After… Continue reading →