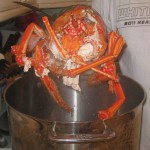 You're probably familiar with lobster tails as a primo meal, perhaps even lobster claws. But have you ever eaten the head of a lobster?  Lots of people believe there's no meat in the head of a lobster or it's not good to eat. I beg to differ . . .
What Kind of Lobster Are We Talking About Anyway?
Although I call them "lobster," the ones we eat around here are not the American/Maine lobster with the giant claws. These are more accurately called spiny lobster (a.k.a. Crawfish). Wikipedia and the Bahamas National Trust can educate you more.
This… Continue reading →