Welcome to a new week! I was in Nassau over the weekend, running errands, visiting with my beau's family and attending the funeral of a friend's son. As tragic and sad as that was – a life cut far too short – it was a good day with family and friends. Reminders in so many ways, large and small, to make each and every day count!
The flight home from Nassau is about 30-40 minutes in a small, single-engine plane. After dozing as we left Nassau yesterday, I roused myself for the last 15 minutes to enjoy the spectacular aerial… Continue reading →
Published
April 4, 2012
|
By
Dawn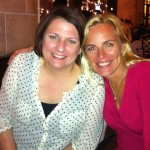 I've had a whirlwind of travel lately. A bit too much for my liking, actually. When I'm back in Florida for visits with friends or family, and the ever-present island errands, I've described how hectic these Stateside visits can be. My latest trip last week was the most hectic yet!
On Monday, I took a morning flight from the island to Florida. Upon landing, I hopped in my little beater car and drove a few hours to meet friends who were visiting Florida on their kids' Spring Break.
Theresa and Kevin… Continue reading →
Posted in

Blog (all posts), Island Living, Travel & Events
|
Tagged

aerial view, air strip, airplane, airport, customs, Family, flying, Friends, immigration, Stateside, transportation, travel, Water
|
4 Comments
Subscribe to Blog via Email