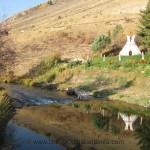 As I've commented before, the Better Life can be enjoyed regardless of the setting. And this island girl travels! Most recently, Beau and I enjoyed a journey into the Wild, Wild West – an area of the United States that neither of us had previously explored.  In short, it was fantastic!
Jackson Hole, Wyoming
This area still feels like the frontier as it's a looooong way from the Bahamas, but it was entirely worth the trip!
After arriving by plane last week, stepping into the chilly mountain evening and eating a late dinner by the hotel, we… Continue reading →