My dearest Better Lifers, I have missed you!
Since launching this blog four months ago (is that all? It feels like we've been together longer than that!), this is the longest I've been away from you. It has been exceptionally busy lately – even for "island busy!" Some of the reasons why will warrant individual blog posts in the future, but, in a nutshell, here's what I've been up to:
Beau's dog, Milo, injured himself somehow and has been limping. To keep him from running and wrestling with the other island dogs, we've been keeping him contained in the house…
Continue reading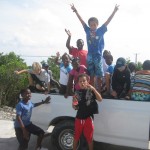 I love our island children.
I don't have children of my own (and my beau's children are grown). So I get my "kid fix" from spending time with the local island kids. Due to the small size of the community and the relaxed, interactive, island lifestyle, it is my pleasure to see these children almost every day – far more often than I was able to see cousins or friend's children in the hectic, far-flung States.
One of the benefits of… Continue reading →
I've joked about being "island busy." That is, my days stay full of activity, but I'm cognizant that it's not the same stressful levels as when I lived in the States.
Lately, however, I've been feeling the press of those old "hectic" feelings creeping into my island bliss. You know the ones I mean:
I'm so busy. I can't get through everything on my To Do List. I can't seem to get caught up. There's not enough time to do the things I want to do. I'm turning down fun offers for the tasks I feel I "should"…
Continue reading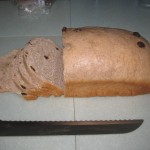 What's so special about French Toast? Well, nothing really. It's delicious, but it's not particularly unique, nor is it difficult to make. So why write about it?
I dunno, just because I feel like it.
Okay, but that's kind of a weak answer. WHY do I feel like writing about it? Perhaps because some of you are curious about what I do in the course of any given day on the island. Others of you are interested in the concept of choosing a better life for yourselves and are searching for clues in the experience of others. And some of… Continue reading →
Sometimes, people will ask me, "Do you miss it?" The specifics they're ascribing to that question depend on the context of whatever we've just been discussing. However, it usually falls into one of two scenarios: (1) Island Living – the micro view of the challenges inherent in living on a tiny island, or (2) Big Life Change – the macro view of how dramatically I've changed my life. Let's tackle the first one here today.
Island Living
I've described before just how very small this island actually is. When talking about life here, which necessarily involves limited shopping and entertainment… Continue reading →
People often express their curiosity about island living and ask me, "But what do you DO all day?" (In fact, this is the question I get asked the most, after "How did you end up on an island?" and "Do you work?") I understand why the question comes to mind. For the askers, their island experiences have either been the stuff of daydreams or vacations: sleeping in, reading all day, going to the beach for hours, taking naps. Delightful as that is, it does not seem like real life to them.
And, in fact, it's not. I joke… Continue reading →