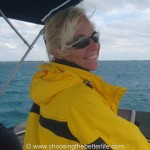 Dearest Better Lifers, hellooooooooooo!  I know I've been remiss about writing for quite some time.  But, it makes for pretty significant neglect when . . .
I missed my own Blog birthday!
February 23, 2014 marked 3 years since I returned to the island, and two years since this Better Life blog was born.  And I missed it.  Yup.
Last year, I celebrated with an Anniversary Roundup, followed by a giant Thank You, a reflection on how the blog came to be, and more – all in my anniversary/birthday week.  This… Continue reading →