My dearest Better Lifers, I'm still out here! But, boy oh boy, do I miss you!
My blog conversion is taking waaaaaaaaaaay longer than anticipated. When frustration mounts, I pause and remind myself of our Better Life principles:
Breathe.
Remember that it all gets done – it all always gets done.
Refocus on the good parts.
Express gratitude for being in such a blessed position to live on an island and blog about it!
Although I'm dismayed by the delays, I am pleased with how it's evolving and will be excited to present an improved blog to you! I've… Continue reading →
Greetings, my Better Lifers!  I hope you are enjoying each and every day.
My days have been a flurry of Discovery Day celebrations, family visits to the island, my Stateside visit and requisite errands, upcoming friend visits to the island and more.
In addition to the usual "island busy,"  I've also been working more on freelance writing projects and having fun developing some exciting possibilities in that arena.  As part of upgrading my focus on writingprojects, and after 8 delightful months of blogging with you all, I want to… Continue reading →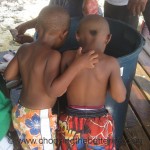 Today, October 12, is a special day.
Why? In addition to simply celebrating another day of Better Life, here are my top three reasons to celebrate today.
Reason # 1 – Discovery Day
On Monday, October 8, the United States (and other countries) observed "Columbus Day" as a holiday.  Similarly, today, the Bahamas (and other countries) recognize Discovery Day.
Discovery Day commemorates Christopher Columbus' arrival in the "New World."  His initial landfall is thought to be on one of the Bahamian islands, what he called Guanahani, on this day in 1492.
Present day, this… Continue reading →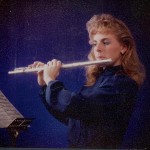 Music. One of my passions. From as early in life as I can remember, my home and heart have been filled with music.
The music of my childhood.
Both of my parents played instruments as youngsters, have good singing voices and love music. Throughout my childhood in the 70's, joyous sounds of singing and old records regularly flooded our home.  My dad even enjoyed moonlighting as lead singer in a band when he was in graduate school and I was in pre-school.  (Those were the days when a little girl could ride on the gas tank… Continue reading →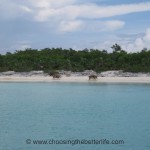 " . . . when pigs fly!" How 'bout when pigs swim?!
Yes, it's true. Pigs swim. At least, island pigs swim!
I've posted about this before as part of an evening boat excursion, but it's just too fun a topic not to revisit. Besides, the pigs really warrant their own post!
So, the scoop . . .
On a nearby (uninhabited) island, a handful of large, wild pigs are the dominant residents. Some twenty years ago, a couple of the local guys brought in two pigs and placed them on that island to breed and… Continue reading →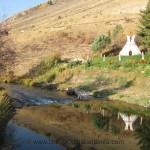 As I've commented before, the Better Life can be enjoyed regardless of the setting. And this island girl travels! Most recently, Beau and I enjoyed a journey into the Wild, Wild West – an area of the United States that neither of us had previously explored.  In short, it was fantastic!
Jackson Hole, Wyoming
This area still feels like the frontier as it's a looooong way from the Bahamas, but it was entirely worth the trip!
After arriving by plane last week, stepping into the chilly mountain evening and eating a late dinner by the hotel, we… Continue reading →
Good morning, Better Lifers!
Today's post is a revised version of an earlier post from March 16, 2012, giving you the background of how I first discovered this island on a family vacation in my teenage years.  Having combed through my storage unit when I was last in Florida, I retrieved old photo albums.  So you now have pictorial accompaniment for the story!
Here is the link to the updated post. Enjoy and have a great week!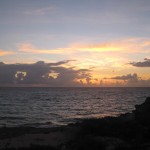 Good morning, Better Lifers!  What a glorious day.  I hope you take a moment from your busy Saturdays to simply breathe, look around you, and smile.
I've been rather contemplative lately.  I just feel so FULL of Life, in a quiet, contented way.  I think perhaps my senses are becoming more finely tuned to the little things in each day that bring me peace and happiness. Combined, they can outweigh the moments of the blechy stuff – the chaos and frustrations of everyday life.
Anyway, in this spirit of contented contemplation, I awoke this… Continue reading →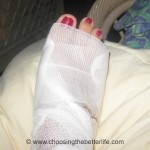 Last week, I blogged about Angel's medical emergency, but I'm overdue to fill you in on mine . . .
As regular readers may recall, the end of July was a fun, but particularly hectic, time for me. During a brief lull one Sunday, Beau went out diving (free-diving and spear-fishing) for the day, and I decided to treat myself, too.
French Toast
I slept in a little – anything past 6:30am is a luxury! When I woke up, I was craving French Toast, but I didn't have any bread in the house. I used that… Continue reading →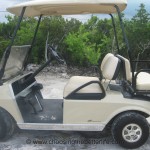 G'day, Better Lifers!  I'm having a delightful Thursday and thought I'd share some of it with you.  This isn't a comprehensive view of the day, but is a glimpse into some of the little snippets that are blending together to bring me joy today.
First of all, this post is a labor of love because my rapid typing skills are on a major slow-down today.  I cut my index finger, and it remains sore on the typing tip.  BUT, what led to the cut is most excellent – I was cleaning Beau's new golf cart!… Continue reading →