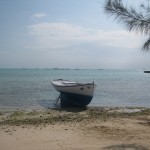 I'm so excited for Regatta!
(Roundup of background info here for those of you who may have missed it.)
Our local community sends two A-class sailboats to the race every year, both of them national champions several times over.  The boats are already moored securely in George Town, where the Regatta will take place.  Meanwhile, however, I thought I'd give you a glimpse into some of the preparation that goes into getting these boats ready.
Boat Building and Repair
I think these traditional Bahamian sloops are so beautiful – for their clean lines and sail-filled grace, as… Continue reading →