Sunsets and New Beginnings
The Week Kicks In
As with most Mondays, mine kicked off yesterday with a flurry of activity . . .
getting ready for our upcoming blog anniversary (woot! woot!),
catching up on email and social media stuff from my mostly-unplugged weekend,
composing a long overdue response email to one of my besties,
working on a few writing projects,
paying bills online and checking accounts,
updating Quicken,
running external backup to my hard drive,
laundry,
cooking,
house-straightening,
dog haircut and tick check,
computer assists to Beau for his business,
airport run to pick up documents arriving from Nassau,
delivery of said documents to local business (advertising for upcoming Regatta),
preparing for upcoming meetings for local committees on which I serve,
etc., etc., etc.!
I've posted before about island life being as "busy" as any other and not just a constant vacation.
A Different Kind of Monday
But, in the midst of this hectic Monday, I realized something . . . exactly two years ago, on February 11, 2011, I left work in a downtown U.S. law firm for the last time.
Although I've been aware of my upcoming one-year blog anniversary (which is tied to my two-year anniversary on the island), I hadn't paid attention to other dates or thought about leaving my job.  So when the thought struck me, that yesterday was the anniversary of bye-bye-law-firm, it gave me pause.
I remembered . . . why I quit my job, how I ended up on an island . . . and I reflected on everything since. Most especially, I reflected on how very different my Mondays are now. Yes, busy. Even "hectic" at times, but it is all relative! It's nothing like the pace I drove before. Although this life has its stresses too, they come from a life I am choosing, so it somehow makes them more palatable.
Plus, I have far more balance in my life now: mostly unplugged evenings and weekends, more social time and get togethers with friends, more family time, reading books, an easy routine and lots of fun with Beau, no guilt over a cooped-up city lifestyle for Angel. 🙂
As with any life, no matter the setting, it's not perfect. But it is fabulous – for me – because it is more aligned with what I value most, because I choose to focus on the positives, because I appreciate the little things that bring joy in each day, because I give THANKS for it all.
Sunset
So, my busy Monday proceeded.
As the day wound down, Beau and I cleaned up for the evening and sat on the back deck. We enjoyed the slow descent of the sun, waved to our neighbor, watched a magnificent eagle ray playing in the water (sorry, no good camera angle at that distance) and breathed in the relaxation of the evening.
I no longer remember what I even did the night I left work two years ago. I remember my last day in the office vividly, but not afterward. I guess, after that, the sun set (metaphorically, of course, because in the dead of midwestern winter it had probably actually set in the afternoon, before I left work!)
Anyway, the sun set then, and my new beginning was underway.
Last night, the sun set again – as it does every single day – and a new day awaited me – with many more new days to follow (God spare my life, as the Bahamians say).
I leave you with the sunset visuals of last evening . . .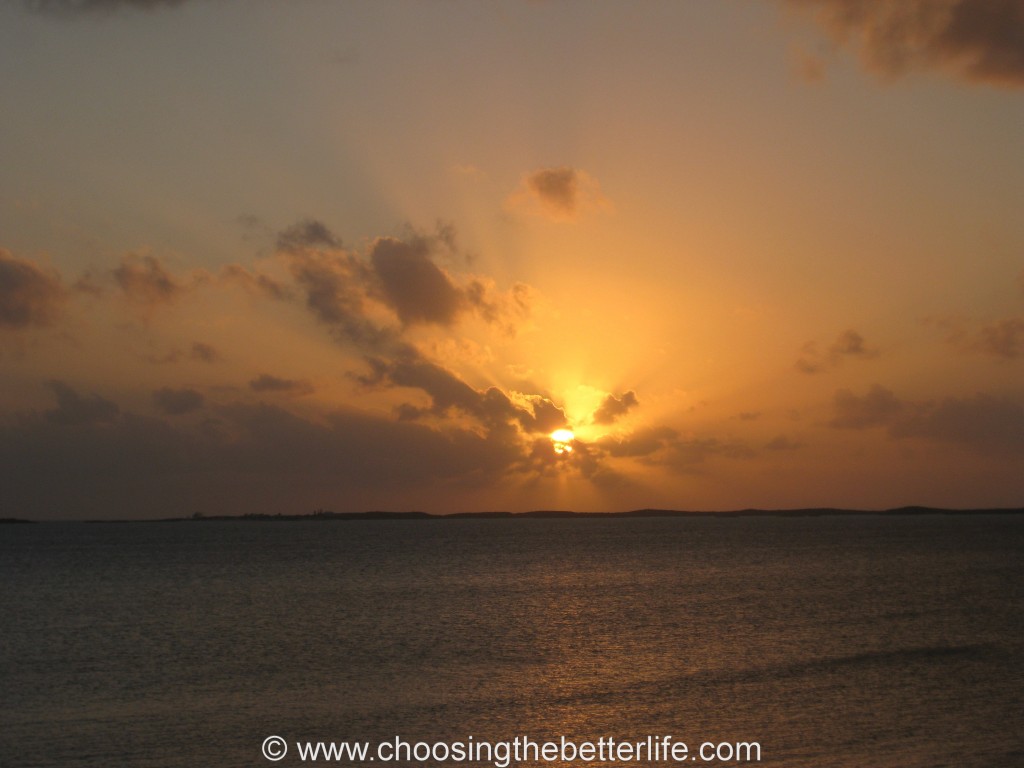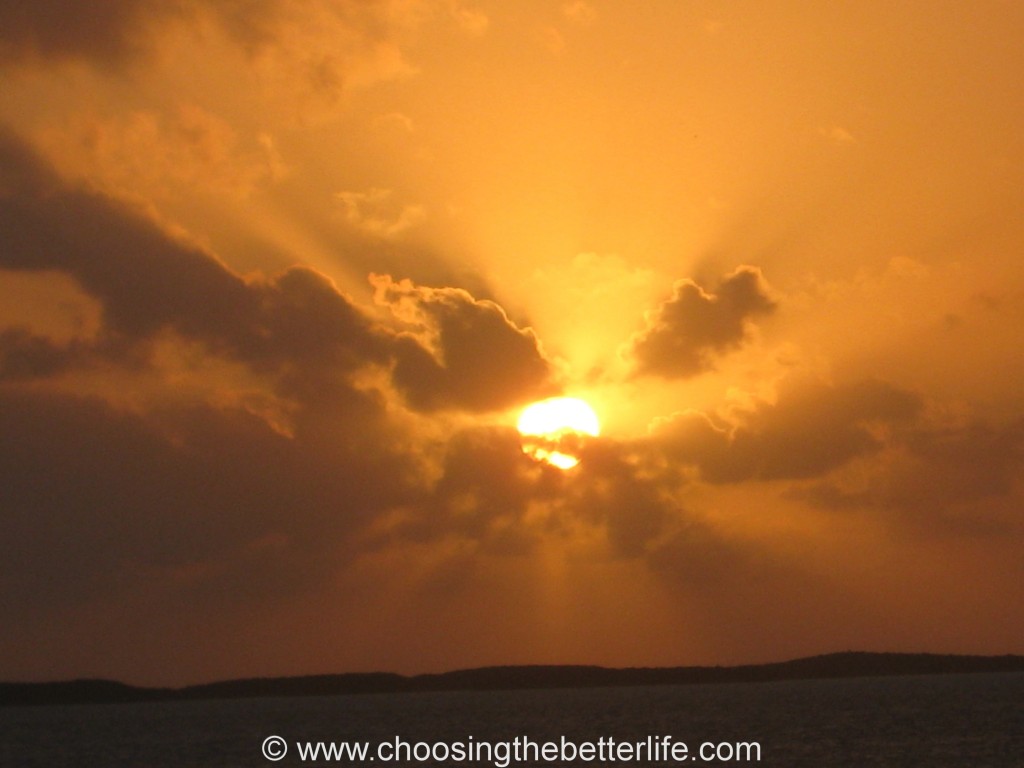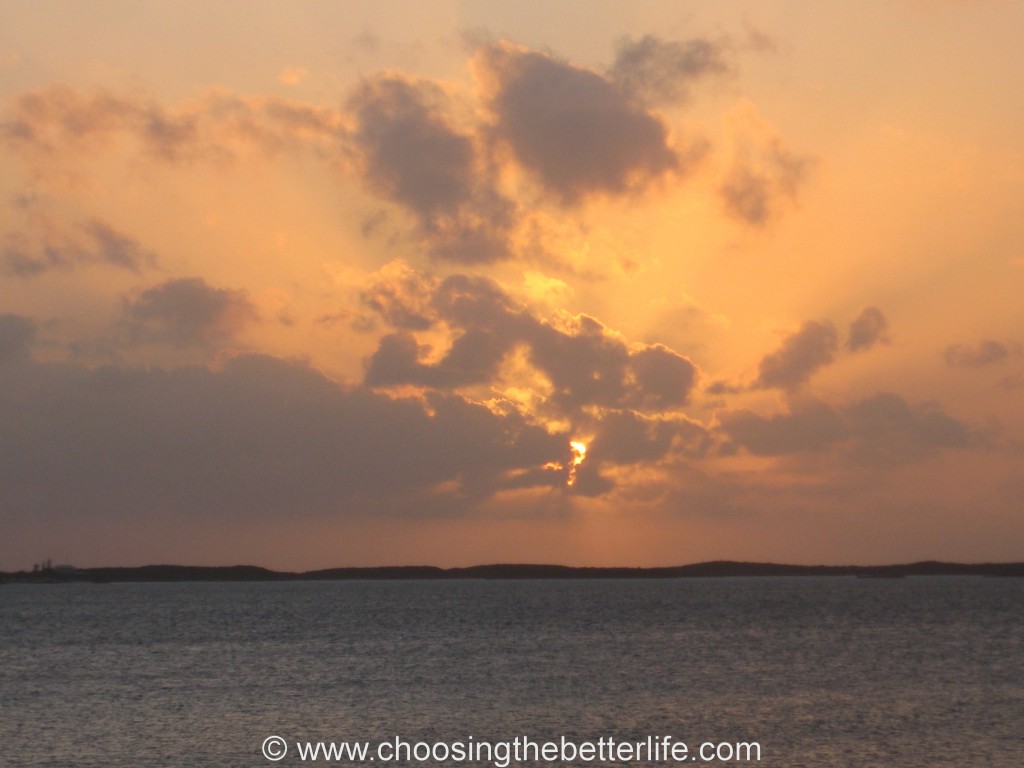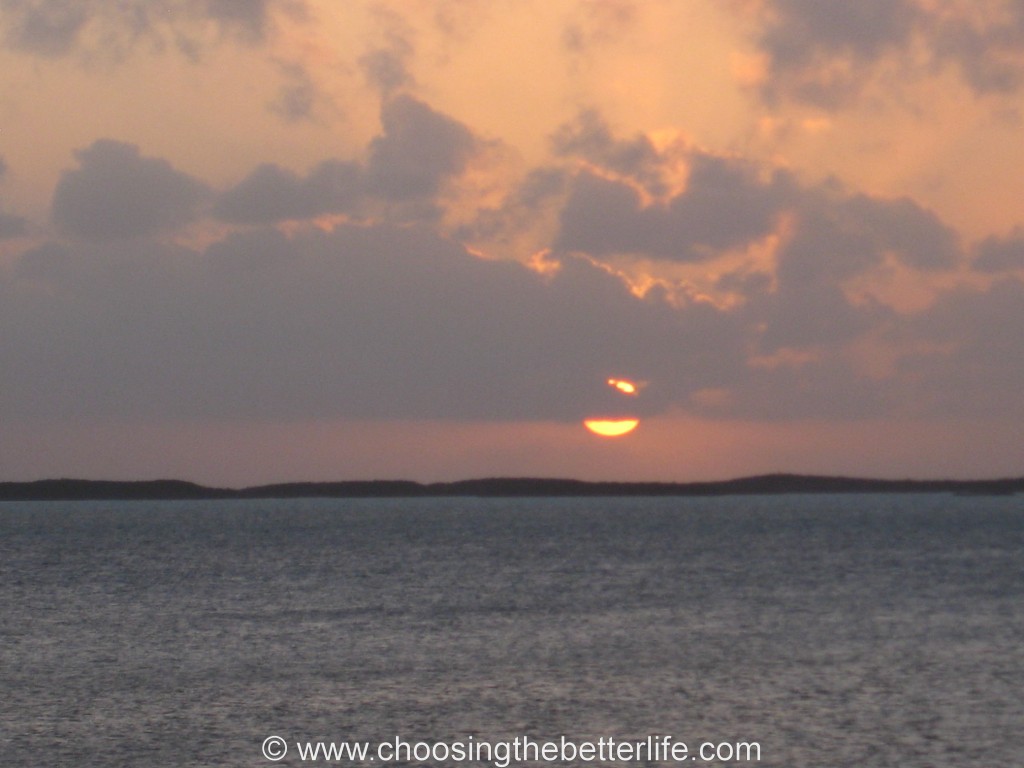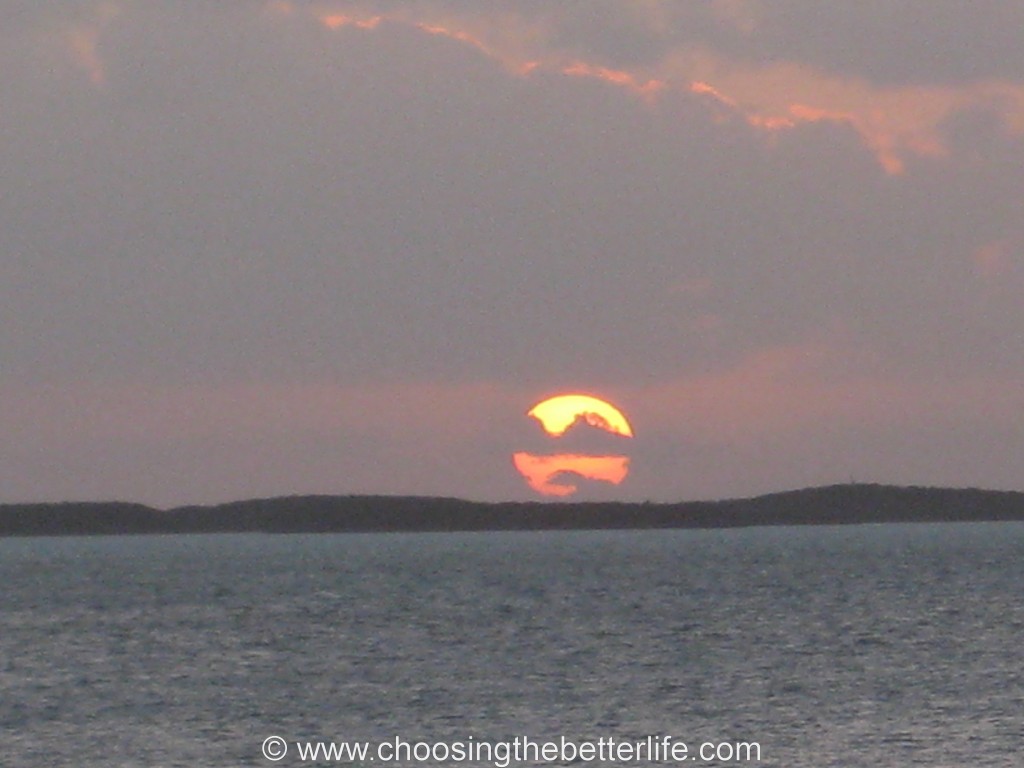 As you remember your own sunsets, then and now, what awaits in your new day?
9 Responses to Sunsets and New Beginnings