Fragments of a Thursday: Golf Carts, Dogs and Aloe
G'day, Better Lifers!  I'm having a delightful Thursday and thought I'd share some of it with you.  This isn't a comprehensive view of the day, but is a glimpse into some of the little snippets that are blending together to bring me joy today.
First of all, this post is a labor of love because my rapid typing skills are on a major slow-down today.  I cut my index finger, and it remains sore on the typing tip.  BUT, what led to the cut is most excellent – I was cleaning Beau's new golf cart!  Yup, Beau got a new-to-us used golf cart that I'll be able to drive in lieu of the extremely temperamental and mostly brakeless 15-year-old one I've been using!  The golf cart was shipped from Florida, so I had to wash it down really well to make sure no saltwater splash residue remained – the salt is so corrosive.  Anyway, it's well worth a temporarily sore finger.
Today is a delightful, blustery day on the island.  We're enjoying the clouds and breeze and respite from late summer heat.  With the various clouds rolling around, we've enjoyed particularly spectacular sunsets and sunrises lately.  I was still sleepily nursing my coffee during this morning's brilliant displays of reds and purples, but here is a glimpse at one of our sunsets earlier this week.
I'm pleased to report that Angel is healthy and happy after her recent near-death experience.  (Now that she's safe, I find myself entertained by such exaggerations.)
The only residual effect is that my lick-at-everything dog proceeded to pick the shaved area of her arm until it was red and raw.  Sigh.  In order to keep her off of it, Angel has been relegated to the green cone.
While telling my neighbor and friend how pathetic she looks in this cone, he made a brilliant suggestion – put aloe on her leg!  Apparently, dogs don't like the taste, so it will keep her from licking the area.  Plus, of course, aloe has good healing properties.
So, with a pair of scissors in hand, I marched to the aloe plant in my front yard and took a little snip.
Curious as to how it tasted myself, I flicked my tongue across the cut end – blech!  Bitter.  Terrible, lingering aftertaste.  Don't let curiosity get the best of you.  Trust my neighbor.  Trust me.  It tastes bad.
After a few swigs of coffee to cleanse my palate, I squeezed the aloe and applied it to the sore spot on Angel's leg.  A sniff.  A lick.  No more.  Voila!
Meanwhile, it was time to turn my attention to Milo.  After disappearing for a few days to roam and play with the other island dogs (eating by Brooks' cousin and generous others, I suspect), he has returned home.  But before he is allowed entry . . . bath time!
Perhaps the most exciting part of my morning was the long overdue set-up of my little office area!  For the past year and a half, I've been using my laptop, usually at the kitchen counter with a variety of papers spread around.
But, from my former life in the States with a big home office, I still had one unpacked box of goodies – all the makings for a desktop setup.  Huge monitor, keyboard, wireless mouse, battery backup, external hard drive, etc.  After laying it all out, I realized that my tech-challenged self had forgotten how it all went back together.  This, despite my Type-A post-it notes on most of the components!
So I arranged a remote service call with my favorite techie – my brother.  We made a Skype date, and I proceeded to show him all the stuff, and he talked me through how to put it all together.  I think I mostly remembered after all, but it was good to have "professional" back-up, and it's always a delight to talk to my brother.
So, now I'm ready!  Having gotten my home in order, so to speak, I'm mentally ready and inspired to focus more on my writing.  It feels fun and exciting to me!
Since the glare in the above photo prevents you from seeing outside, I'll give you a more direct picture of my view – the very best part of this office!
I mean, how can I not write my little heart out in this setting?!
I had just sat down at my new set-up to email my friend and thank him for his brilliant aloe suggestion when I realized – oh no – Angel is licking her leg!  I grabbed the aloe to reapply a fresh patch.  No matter.  My always-hungry-will-eat-anything-and-everything dog apparently acclimated herself to the bitter taste and was calmly licking away.  Sigh.  Back to the cone!
But it's not all bad.  Angel in the cone provides endless chuckles for me and Beau, and she is fairly comfortable in it.
Napping, for example.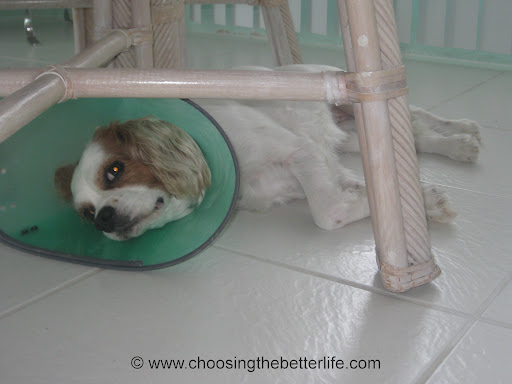 And on high alert, per usual, when anyone has food nearby.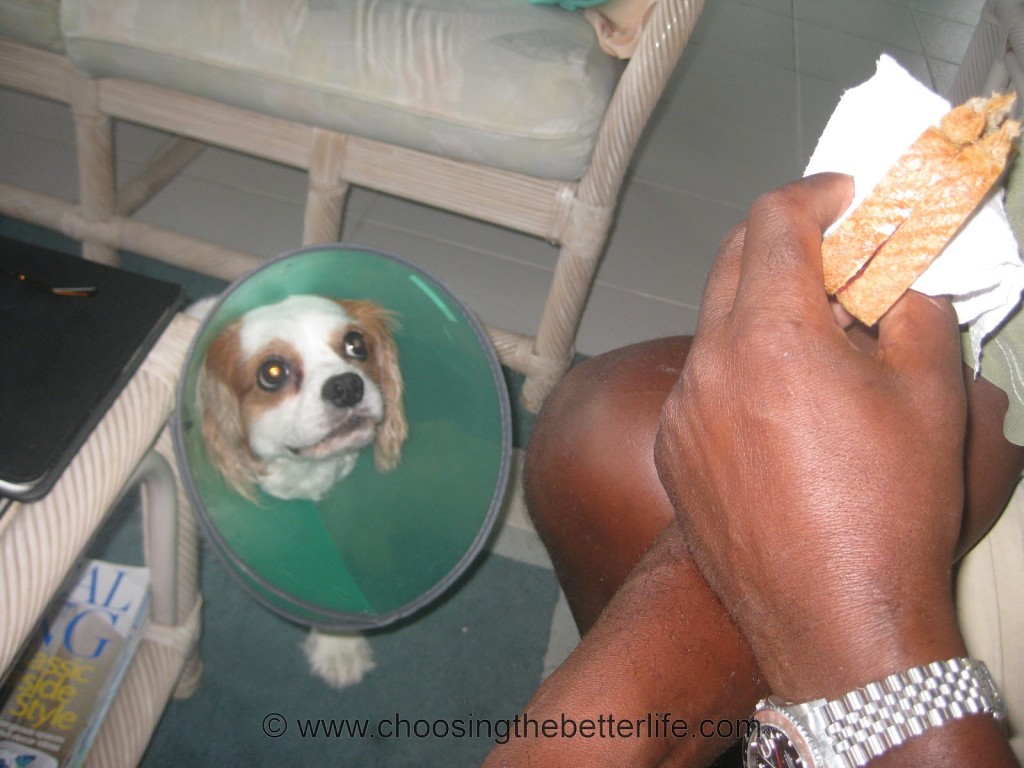 I recognize this is a very random smattering of disjointed tidbits from my day.  But all of these little pleasures add up to one giant Better Life!
2 Responses to Fragments of a Thursday: Golf Carts, Dogs and Aloe